Gina Salá & Daniel Paul
Hawaii Kirtan Retreat on Oahu
Jan 24 - 31, 2017
Daniel Paul is available for private lessons and group workshops online, on Maui and worldwide.
Whether your interest is classical tabla or kirtan chanting accompaniment, or just plain drum therapy for anyone on any type of drum, any age and ability,.
Write Daniel for info at
PAST PROGRAMS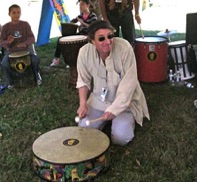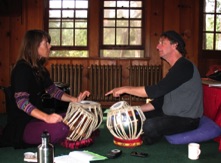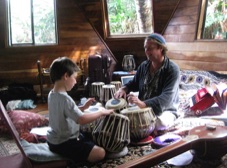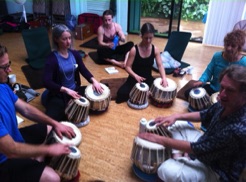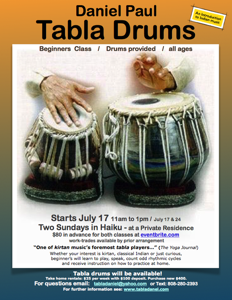 Daniel Paul
Tabla Drum Class for Beginners
Drums provided / all ages / basic introduction
Would you like to try playing one of the world's most unique instruments!
Seasoned tabla drummer Daniel Paul is offering two introductory beginner classes at his home in Haiku on Maui.
Whether you're just curious, or for classical or kirtan accompaniment,
come learn to play, speak the drum syllables and count in odd rhythmic cycles.
~~~
Two Sundays in Haiku
July 17 & 24
11am to 1pm
at his private residence on Maui
Both classes are $80 together in advance at eventbrite.com
For questions & registration, email: tabladaniel@yahoo.com or Text: 808-280-2393
work-trades available by prior arrangement
Drums will be available at class.
Take home tabla rentals: $25 per week with $100 deposit. (Or purchase $400)
For further information see: www.tabladanel.com
~~~~~~~~~
"One of kirtan music's foremost tabla players…" (The Yoga Journal)
A professional tabla drummer and teacher for over 3 decades, 
Daniel Paul is an India Fulbright Scholar who earned his degree in the percussion of India
from the Ali Akbar College of Music under several of India's master musicians
(including Ali Akbar Khan, Swapan Chaudhuri and Zakir Hussain).
Daniel is now accepting long term students of all ages, online and on Maui.