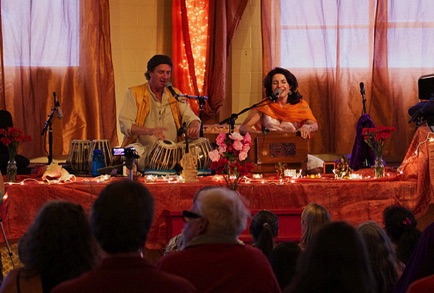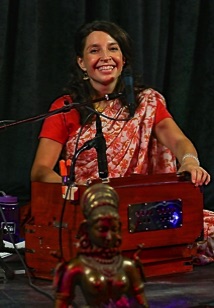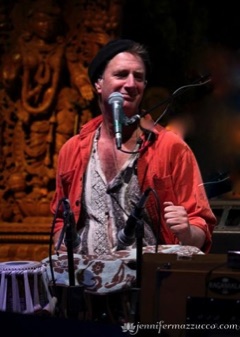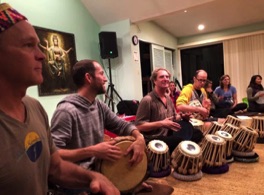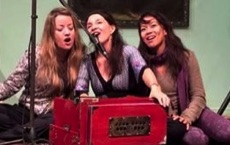 Daniel Paul's
2016 Programs
````````
with Gina Salá
May 6 to 8th
Bahamas Shivananda Ashram  
Spring Ecstatic Chant Fest
with Steve Gorn
and also playing with
Russill Paul
and Sheela Bringi
for info:
````````
WIth Jai Uttal
May 21
Afternoon workshop
Berkeley, Ca
and
June 3
Kirtan
Sebastopol
````````
WIth sitarist
Will Marsh
California Recitals
May 27 to June 1st
see info below
````````
WIth Jai Uttal
August 9 to 14th
14th annual
Summer Kirtan Camp
Fairfax, CA
````````
With Gina Salá & Steve Gorn
Udaya Music & Yoga Fest
August 18 to 21
Sophia, Bulgaria
````````
WIth Jai Uttal
Sept 2 to 5
Omega Spring Chant Fest
Rhinebeck, NY
````````
With Gina & Jai & ?
Sept 8 - 11
Bhaktifest
Joshua Tree, CA
--------------------------------------
For more info on specific dates see: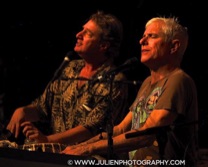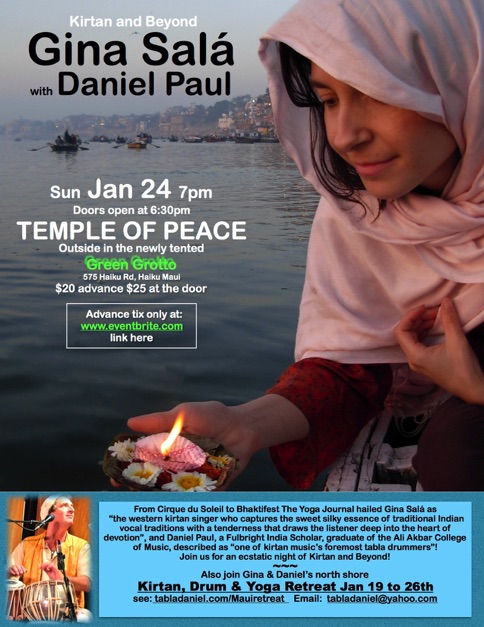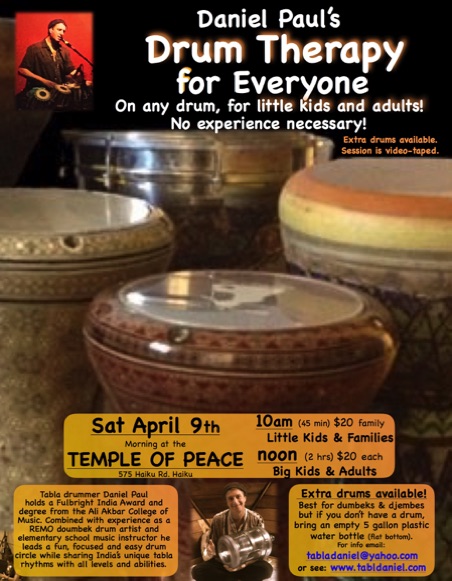 MUSICAL MOODS of INDIA
Join sitarist Will Marsh and tabla drummer Daniel Paul 
for a series of intimate recitals of North Indian classical music
celebrating the release of their new CD, "Ragas of the Four Seasons". 
Encinitas
Friday May 27 at Jyoti Mandir at 7:30pm 
$20 suggested donation. For ticket reservations and directions see:
Santa Monica
Sat, May 28 at the Bhakti Yoga Shala, 8:30pm
Third St. Promenade, 207 Arizona Ave, $20 suggested donation
Atascadero  
Monday, May 30 at Wilwand Tea Co.& Healing Arts at 7pm
9900 El Camino Real, $20 at the door
Santa Cruz
Tuesday, May 31 in at Urban Sanctuary  at 7pm 
881 41st Ave., $16 advance at Eventbrite.com / $20 at the door
Info: www.urbansanctuarysc.com or email: santacruzbhakti@outlook.com
North Berkeley
with special guest Ross Kent on sarod
Wed. June 1st in at Chez Capistrano at 7pm
1850 Capistrano Ave (corner of Laurel Lane) $20 suggested donation
This is a private residence. For info call: 510-882-2689
To see a live concert video excerpt go to:
https://www.youtube.com/watch?v=kP80yt3ZeA0
The Music
North Indian classical (Hindustani) music is based on raga and tala, a highly sophisticated system of melody and rhythm whose origins can be traced to the saints and sages of India's pre-recorded history. For centuries a vast body of musical literature has been taught from father to son, in the temples and royal courts and straight into the modern world, yet another gift from ancient India. Known as Nada Yoga, it is the yoga of sound, a meditation on pure music as a path to God. The musician literally colors and heals the mind and emotions with melodies precisely prescribed by each raga. There are primary and weak notes, heart phrases, ascending and descending patterns, exact times to be played, specific moods and more. Taken altogether and utilizing a vast body of memorized composition in specific rhythms, one begins a process of re-composing and improvising allowing each raga's beauty to be unraveled in a devotional meditation, skillfully combining pieces of a rather large puzzle into an expression of musical perfection! 
Will Marsh
Will Marsh has been a dedicated student of the sitar since 2006. He was initiated into the rich classical tradition of North Indian music by Ustad Aashish Khan (eldest son of Ustad Ali Akbar Khan) while a student at the California Institute of the Arts. His commitment to this art form has made Will a member of a new generation of serious Indian musicians from the United States. He has also had the privilege of studying with sitar master Roshan Jamal Bhartiya, from Mumbai India. Will completed his MFA in North Indian music from Cal Arts in 2013.
Daniel Paul
Fulbright India Scholar Daniel Paul earned his 9 year (Tal Vadya Bid) degree in the classical music of India from the Ali Akbar College of Music (aacm.org) under the guidance of the late Maestro Ali Akbar Khan. While there he also studied tabla drumming under several of India's great classical masters (Zakir Hussain, Swapan Chaudhuri and Jnan Prakash Ghosh). Throughout his long career he has performed with a diverse group of musicians from bansuri flute master G.S. Sachdev to Hawaii's Henry Kapono and with many of today's top kirtan chanting artists such as Snatam Kaur, Seattle's Gina Salá and Grammy nominee Jai Uttal. 
The Instruments
The sitar is perhaps the most well known of the Indian instruments.  Artists such as Ravi Shankar have popularized this instrument around the world.  Sitar is a long necked instrument with an interesting construction.  It has a varying number of strings but 17 is usual.  It has three to four playing strings and three to four drone strings.  The approach to tuning is somewhat similar to other Indian stringed instruments.  These strings are plucked with a wire finger plectrum called mizrab.  There are also a series of sympathetic strings lying under the frets.  These strings are almost never played but they vibrate whenever the corresponding note is sounded.  The frets are metal rods which have been bent into crescents.  The main resonator is usually made of a gourd and there is sometimes an additional resonator attached to the neck.Tabla is a pair of drums.  It consists of of a small right hand drum called dayan and a larger metal one called bayan.
A set of tabla drums have an interesting construction.  The dayan (right hand drum) is almost always made of wood.  The diameter at the membrane may run from just under five inches to over six inches.  The bayan (left hand drum) may be made of iron, aluminium, copper, steel, or clay; yet brass with a nickel or chrome plate is the most common material.  Undoubtedly the most striking characteristic of the tabla is the large black spot on each of the playing surfaces.  These black spots are a mixture of gum, soot, and iron filings.  Their function is to create the bell-like timbre that is characteristic of the instrument.Although the origin of tabla is somewhat obscure, it is generally belived that it evolved from the barrel shaped drum called pakhawaj about three hundred years ago.