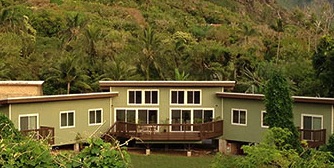 Gina Salá & Daniel Paul
Nada Yoga Kirtan & Drum Retreat on Maui
Jan 27 to Feb 3, 2018
Updated info coming soon
~~~~~
Below is info from the last retreat
in Jan 2017 on Oahu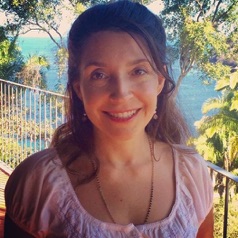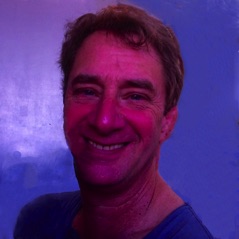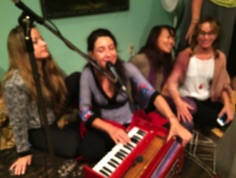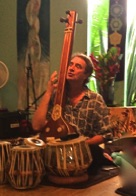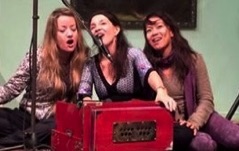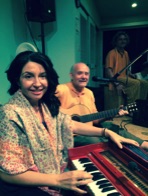 LOCATION Address: 51-27 Huamalani Rd, Kaaawa, HI 96730
Phone: (808) 551-1929 Website: http://windwardretreat.org
The Windward Center is an all-volunteer 501(c)(3) non-profit center organized in a manner consistent with the traditions, testimonies, faith and practice of the Religious Society of Friends (the Quakers. No money goes to salaries or staff.  All contributions go to the overhead and maintenance of the center, a simple modest structure located within the small residential community of Kaʻaʻawa, Hawaiʻ. (Pop: 1400) The center was designed for educators and non-profit groups looking for a special space to hold retreats, workshops, and local meetings.
The building's open terrace faces the back lawn with the mountains rising just beyond the three acres of impenetrable tropical rainforest. Along with the four bedrooms in the center, local BnB's will be added as needed for accomodations. The small town occupies a narrow strip of land with the Koʻolau Mountains on one side and the Pacific Ocean on the other. Legends abound from and around our location. The traditional land divisions (ahupuaʻa) of Hakipuʻu, Kualoa, Kaʻaʻawa, Makaua, and Kahana form one of the richest and most sacred parts of Hawaiʻi.  It was here that the first heiau (temple) was constructed, where the high shrine to the great god Lono existed, and it was the center of one of the two priesthoods in ancient Hawaiʻi.
Ocean:
Ocean activities in and around Kaʻaʻawa are boundless. The ocean can be everything from a playground for water sports to magical spot of healing and rejuvenation, a place to nurture the spirit within and without. Just a three-minute walk from the center gets you to Swanzy Beach Park. Swanzy is a county beach park with a white sand beach and a large grass area for picnics and camping. It also has restroom facilities.
A short stroll down the road gets you to Kaʻaʻawa Beach Park. It is a ribbon of white sand that is perfect for sunrise walks as it runs for about a mile. In some parts of this beach the sand is so fine it feels like powder between your toes. All of the beaches in Kaʻaʻawa have turquoise waters and palm trees.
If you want to take four-minute car ride you can go to Kahana State park. Kahana is an eight square mile park that ranges from sea level up to mountains over 2,500 feet high. The wide crescent shaped beach, ringed by Ironwood trees that provide lots of shade, is a perfect beach to spend the day. Kahana is also a cultural park with pleasant hiking trails and an ancient 1400 year old Hawaiian fishpond along the ocean.
Mountains:
The Koʻolau Mountains, which run for over 30 miles along the coast of this part of the island of Oʻahu, are the remains of a dormant volcano that collapsed and slid into the ocean hundreds of thousands of years ago. Waterfalls, rain, and wind have formed the deep crevasses in the slops and cliffs. Today the mountains provide outdoor enthusiasts an amazing environment for hiking, bird watching, mountain biking, horseback riding, ATV (all terrain vehicle) and Jeep rides along with endless exploring of nature's beauty.
The Koʻolau Mountains are prime native forest bird habitat on Oʻahu; in fact, the endangered Oʻahu ʻElepaio (Chasiempis ibidis) flycatcher recently had large portions of the southern and central Koʻolau Mountains established as critical habitat.
Facility
Designed to be a simple private and peaceful setting conducive to relaxation, reflection and creativity, the retreat center building has a large central meeting space with a13′ high wall of glass with sliding doors that open to the lush jungle, bird songs, and the rhythm of the ocean.There's a quiet time zone from 9pm to 8am.
High-speed internet and wifi runs throughout the property.
Off the main space is a large lanai (deck) where most guests seem to gather after a day of exploring.
There are four bedrooms in the center with 2 shared bathrooms in the hall. The deck, lawn, and fire pit are great for outdoor gatherings. Built with a concern for the environment, the centerʻs water comes from a rainwater catchment system. The facility is wheelchair friendly with a ramp and large accessible doorways, hallways, and restrooms.There's an eleven-car parking lot with over-flow parking for twenty. Our group has exclusive use of the center and it's grounds but will respect the noise levels appropriate to the local neighborhood.
Local Activities
Kualoa
Only a few miles away, the 4000 acre Kualoa Private Nature Preserve is legendary to ancient Hawaiians and the Hollywood film industry. It has a multitude of activities from zip lines to jungle tours.
See their excellant video of the coastline at: http://www.kualoa.com
The Polynesian Cultural Center
Just up the coast explore the rich heritage of the Pacific Islands. Wander through 42 acres of tropical splendor and enjoy the adventure of traditional hands-on activities. http://www.polynesia.com
Turtle Bay Resort
An endless amount of fun things to do. About a 1/2 hour north. http://www.turtlebayresort.com/Events
Dolphin Tours
Snorkel with wild dolphins off the west coast of Oahu.
Shaka Kayak Tours
Turtle Bay glass bottom eco-kayak/snorkel tours.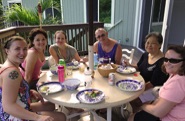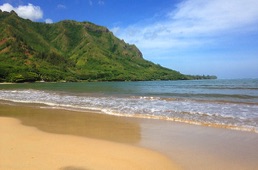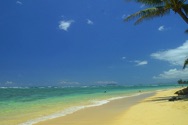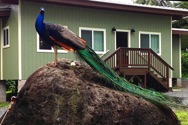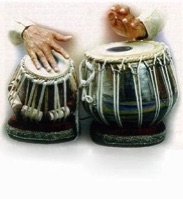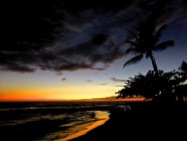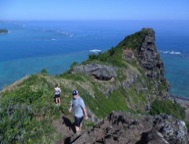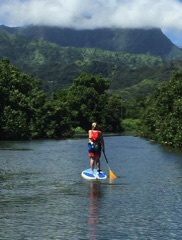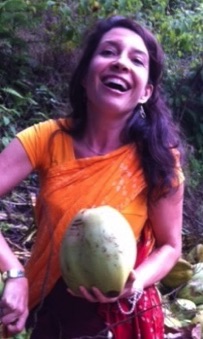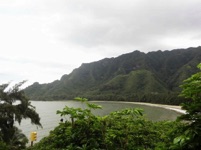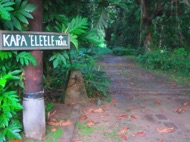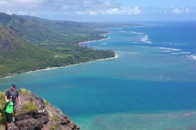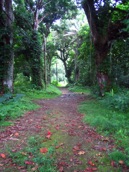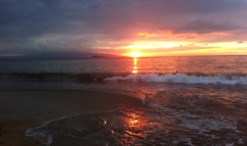 Windward Center
located within the town of Ka'a'awa, Hawaii. A small 'local' ocean-side community nestled on a narrow piece of land between the Ko'olau mountains and the northeast coast of Oahu. The Quaker run facility is a simple structure in a spectacular location 45 minutes from Honolulu airport. The grounds consist of over three acres of tropical rain-forest with the Ka'a'awa Beack Park two hundred yards down the road.
Join Gina and Daniel as they openly share their knowledge and love of music through daily kirtan chanting, vocal coaching, kirtan leading, harmonium, sanskrit, mantra pronounciation, raga singing, Indian music, tabla, drumming and more, including spectacular hiking, kayaking and yoga!
~~~~~~~~~~~~~~~
Residential
Retreat Prices
Rooms include lodging, meals and classes
Plus 2 days of volunteer kitchen help kharma
At this time we have booked 4 separate houses
There are many other options in the area
~~~~~~~~~~
Now accepting requests
Ocean View House
A 3 bedroom home,
a 5 minute walk to the center
Single Room - $2795
Double -$2495 each
1 queen bed
Master Bedroom
Single: $3095
Double: $2595 each
1 queen bed 1 couch sleeper
~~~~~~~~~~
Or find your own accomodations!
Non-Residential Prices
Includes meals & classes (no room)
$1895 entire week
$225 per day
$75 per class (meal not included)
~~~~~~~~~~
Limited Enrollment
Room choices not guarranteed till full payment
To Reserve Your Room
1) Email room preference to Daniel Paul at:
2) Send deposit of $1000
or full payment to:
Daniel Paul
POB 1206, Haiku, Hawaii 96708
Credit Card payments available by request.
(paypal fees add approx $30 per $1000)
Full Payment due by Nov 24, 2016
Cancelation Policy
All deposits are non-refundable
After Nov 24, 2016 no refunds
Prices subject to change until deposit recieved
~~~~~~~~~~
For all questions email Daniel at:
or Gina Salá at:
More info below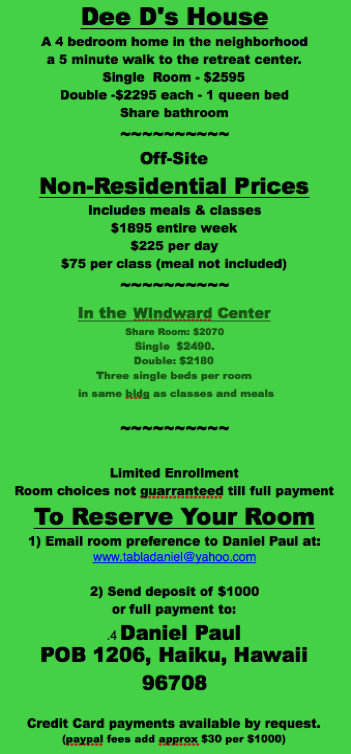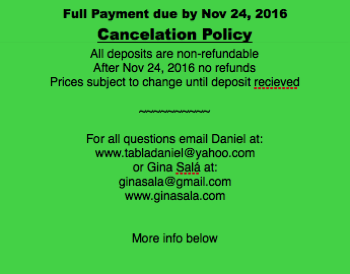 2017 Retreat Schedule
Subject to changes
The retreat start with dinner at 5:00pm Tues Jan 24th
Finishes at 11am on Tues Jan 31
7 -8 am - Yoga. Mantra & Meditation
8:30 - 9:30 Breakfast
9:45 - 12:30 - Morning Group Sessions
Vocal warmups and coaching, sanskrit, mantra, composing, Indian music, etc…
12:30 - 1:30 Lunch
Take the afternoon off to practice music,
hike in the spectacular mountains,, kayak, snorkel
or drive to the famous north shore beaches!
5 - 6pm Dinner
7:00 - 9pm Drumming & Kirtan Evening Group Sessions
Drum groups, lots of kirtan and chances for others to lead.